Image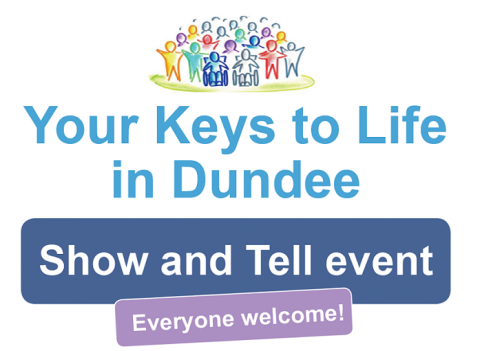 We want to learn your views about plans for people with learning disabilties and/or autism in Dundee.
The 'Your Keys to Life in Dundee' event will be hosted by Dundee Health and Social Care Partnership on 22 October 2019 from 10am-3pm at the Marryat Hall. City Square, Dundee.
People who attend will have an opportunity to learn about the progress of the strategic plan for supports and services for people in Dundee with a learning disability and/or autism. The plan reflects the priorities in the national Keys to Life Strategy and the Dundee Health and Social Care Partnership Strategic and Commissioning Plan.
This free drop in event is targeted at local people with Learning Disability and/or Autism, their family members and carers and the workforce. Focus groups have been arranged during the event to give you a chance to share your views.
The event also gives local agencies and national groups an opportunity to share information and let you know what they do. There will be information that may be of benefit to everyone in the city as well as information from supports and services specfically designed around supporting people with learning disability and/or autism to live the life they choose.
We expect the event to be of interest to anyone who either has a learning disability and/or autism, or is involved in supporting someone with a disability – whether professionally or personally.
No booking is required. Any queries about the event should be directed to Joyce Barclay 01382 433947 joyce.barclaydundeecity.gov.uk. Please also contact Joyce Barclay if you would prefer to share your views in another way.
To find out more about the national strategy, visit https://keystolife.info/
To find out more about Dundee Health and Social Care Partnership Strategic and Commissioning Plan visit www.dundeehscp.com/our-publications/news-matters/information-about-dundee-health-and-social-care-partnership-strategic