Image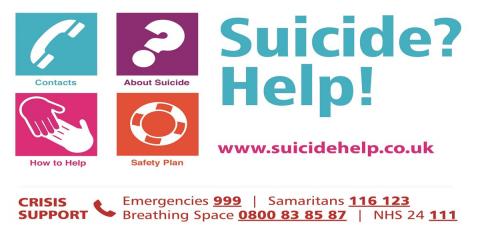 WORLD SUICIDE PREVENTION DAY

People across Dundee are being encouraged to join forces to help prevent suicide.

On World Suicide Prevention Day, September 10, residents are being reminded that preventing suicide is everyone's business and can only be achieved when everyone makes it a priority.

World Suicide Prevention Day aims to raise awareness of suicide, encourage people to talk about mental health and wellbeing openly, and provide information about agencies that offer support.

Chair of the Dundee Health and Social Care Partnership Trudy McLeay said: "The ongoing Coronavirus pandemic has changed daily life for all of us and has had a major impact on the way many of us are feeling.

"Across the Health and Social Care Partnership we want to help and guide those who are most vulnerable to the right care and support.

"I would encourage anyone struggling with their mental health to talk about their feelings and reach out.

"Talking openly about your feelings can help to get some perspective on what is troubling you and you don't need to have a solution. "I know by just being there for someone and listening, without judgement, shows that you care.

"Please do not suffer alone, help is there and I would encourage you to talk about your mental health."

If you are thinking about suicide, or are worried about someone else, you can call free from landlines and mobiles to: Samaritans – 116 123 Breathing Space – 0800838587 or NHS 24 111 Shout – Text 'SHOUT' to 85258 for free 24/7 text based support for anyone in crisis, struggling to cope and in need of help and support.
Additionally, you can visit www.suicidehelp.co.uk for help.