Image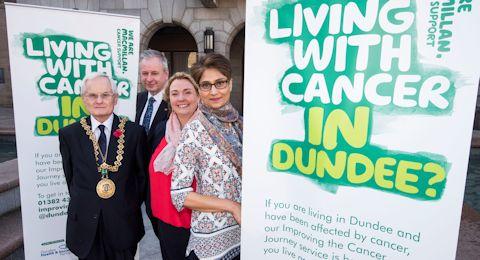 A ground-breaking support service has secured over £350,000 in benefits for people affected by cancer in Dundee.
The Dundee Macmillan Improving the Cancer Journey project was set up to provide financial, practical and emotional support for people living with or affected by cancer in the city.
One of the areas the scheme - a joint venture between the charity, Dundee Health and Social Care Partnership and other partners – focuses on is ensuring that those who are worried about money get access to specialist benefits advice.
Project lead Gwen Davidson said: "We know that one of the big worries people have following a cancer diagnosis is about their finances.
"In fact, finances/money is the number one area of concern for those who have accessed the service so far, ahead of a range of physical and emotional issues.
"As a seamless and personal support service, it is important that we help to tackle the things that worry patients the most, so securing all the money and benefits they are entitled to is vital.
"I'm delighted that we have achieved over £350,000 in the last eight months, and the team will continue working with Macmillan Welfare Rights advisers and Dundee Money Action to ensure we maximise the benefits available to service users."
Since its launch in November 2017, the service has been sending a letter to every newly-diagnosed cancer patient in Dundee, offering them a meeting with a dedicated one-to-one support worker.
The worker then helps the patient access a wide range of assistance, from emotional support to help at home or with other practical needs. Anyone currently living with cancer or caring for someone with cancer can access the service by simply getting in touch with the team to arrange an appointment.
Continued Gwen: "We have carried over 350 holistic needs assessments since the service started, and securing benefits is just one of the many support services we have offered.
"Feedback from service users has been positive, with people confirming that they really value what has been offered.
"Many point to the good practical and personal support they are receiving from the service and the access they have with a named professional worker.
"The pilot phase was due to come to an end this summer, but it has been decided that it should be extended until April 2020 at least."
Dundee is a city with higher than average incidence of all main cancers. There are expected to be over 8000 city residents living with cancer by 2030.
With advances in treatment, more people than ever are surviving and people who are living with cancer are often living longer.
Macmillan's Head of Services in Scotland, Janice Preston, said: "Cancer has a huge impact on every aspect of people's lives and many patients tell us they don't know where to turn for help.
"We are delighted to see the impact it is having so far and hope more people locally will get in touch with the team to get the much needed support they deserve."
The service is open to everyone aged 18 and over living with cancer regardless of their cancer type or where they live in the city.
To make an appointment or find out more about the Improving the Cancer Journey service call 01382 433340 or email improving.cancerjourney@dundeecity.gov.uk