Image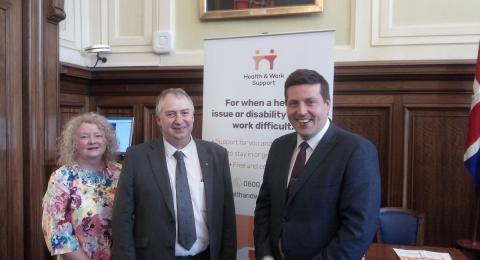 To increase health and employability support for people living with disabilities and health conditions, a pilot Health & Work Support service has been launched across Fife and Dundee.
Health & Work Support will streamline existing health and employability services by providing a single point of contact for those at risk of falling out of work or who have recently left due to ill health. The service will help more people stay at work, get back into work and tackle inequalities in the labour market by providing advice and support to employers on health, disability and work issues.
The Scottish Government will invest £632,000 in the service with additional funding coming from the UK Government.
Launching the service, Employability Minister Jamie Hepburn said:
"Every year, thousands of people in Scotland leave their jobs as a result of a health condition or disability. We want to provide early support to enable more people to stay in employment before they reach this point.
"Health & Work Support will act as a single point of contact for health and work support for people in Fife and Dundee, as well as employers, and will allow them to get fast access to the help they need.
"This new service integrates healthcare and employability support so that individuals with disabilities or health conditions can benefit from a service that more closely matches their needs."
Michael Kellet, Director, Fife Health and Social Care Partnership said:
''Fife Health and Social Care Partnership recognises the importance of employment in maintaining health and well-being and is delighted to be able to host this innovative pilot project here in Fife.   We recognise the work that has gone into making this happen and wish the project every success.''
Chairman of the Integration Joint Board, Dundee Health and Social Care Partnership, Councillor Ken Lynn said:
''This is an extremely important development and I am pleased that Dundee is helping to trial the project along with Fife. We are working hard to make Dundee a better place for everyone, and that means not leaving anyone behind. We want to help all those who wish to get back into work, or remain in work. I will be very interested to see the progress this scheme will make for people in the months ahead.''
 To contact Health and Work Support you can call on 0800 019 2211 or at www.healthandworksupport.scot