Image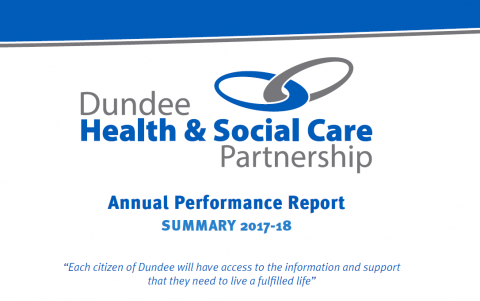 A summary performance report outlining achievements of the Dundee Health and Social Care Partnership over the last year has been published.  You can find it here.
It outlines a reduction of more than 50 per cent in delayed discharges as well as additional investment of £1.1 million in home care services.
The partnership has also developed community services that have reduced the length of time people spend in hospital when they have been admitted in an emergency.
Councillor Ken Lynn, chair of the integration joint board (IJB) of the partnership, said: "This is the second annual report from the partnership and our summary for 2017-18 shows how we are making progress on a number of fronts.
"We are listening to services users and improving services on what they say to us and I am pleased that 82% of adults receiving any care of support rated it as excellent or good.
"I am also pleased how the partnership is working across communities in Dundee to help and support people in their local areas."
The summary report received significant levels of positive feedback last year and a number of partnerships across Scotland have now adopted the Dundee approach.
A full annual report will be considered by the IJB later this year.
Councillor Lynn explained that the summary report also outlines areas for improvement.
He said: The creation of the health and social care partnership is allowing us to better manage services for the future.
"Dundee as a city faces a number of critical health inequalities and we are determined to better focus efforts to help transform people's health.
"We know there are huge challenges across the city and that is why we are trying to arrange the delivery of services more effectively for the benefit of those who receive them.
"This is about putting people at the centre and reflects our ambition to make Dundee a fairer city for all."