Image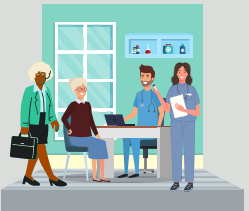 Dundee Health & Social Care Partnership are keen to hear patients' views about their GP Premises.
To ensure you continue to have access to the best possible health care we are planning some changes to the way services are delivered in primary care, which includes your GP practice.  

These changes are needed because of a number of reasons which include:
·      Nationally GPs need to provide increasingly more complex care to a growing population.
·      Dundee has an increasingly older population who have more complex needs.
·      There is a national shortage of doctors, including here in Dundee.   This is due to issues with recruiting and retaining doctors and many of our doctors are nearing retirement.

One of the ways to resolve some of those challenges is to move towards providing care to patients using a multi-disciplinary team. This means patients receive care from other health professionals working at the GP practice.  The team members work alongside the GP, and each member of the team has a particular skill set and specialist knowledge. For example, physiotherapists and pharmacists. Another way to help to use your time and the health professional's time better, is to offer Telephone Appointments or Virtual Appointments.

To deliver the care needed today, and into the next decade, GP practices and the buildings where they are, need to be able to adapt to deliver services into the future. This survey is part of Dundee's GP Premises Strategy which sets out how we move from where we are now to a future which enables general practice to meet the healthcare needs of the citizens of Dundee. As a patient of a Dundee GP practice, we invite you to complete this survey. It should take no more than 10 minutes.  Your responses will give us a better understanding of how patients view their local surgery or health centre and help us to understand what patients think a good surgery looks like.
You can access the survey here
or using this QR code

This survey will close at midnight on Sunday, 29 January 2023, and responses are anonymous.  
For more information please email dchpgpclinicaldev@nhs.scot
Or write to us at :  
Dundee GP Premises Survey,
Room 11
Maryfield House,
Mains Loan
DUNDEE
DD4 7BT